Habitat for Humanity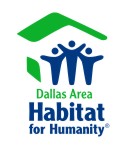 Visionary Sales Environments is proud to be associated with Habitat for Humanity. We have been designing and producing Habitat for Humanity signage since 2003. The distinctive sign structure is now a fixture at Habitat for Humanity BUILD sites. The signs give recognition to the many sponsors and groups that donate their time and money to help those who are willing to put in their "sweat equity" to own a home.
Visionary Sales Environments salutes this fine organization and each of the incredible people we have had the honor of working with. We know they will continue their mission as well in the future as they have in the past.